Patong Bay Hill Resort
An Alluring and Modern 24 Acre Resort Nestled Against the Lush Green of Phuket's Nanai Hill, Showcasing Fantastic Views of the Andaman Sea.
Patong Bay Hill Resort
Your Club Unique home resort, Patong Bay Hill Resort is a tropical, modern luxury resort overlooking Patong and the Andaman Sea. The Resort offers exclusive self-catering accommodation surrounded by natural gardens and lush green landscapes and is comprised of 13 individual buildings with 366 spacious suites, 183 having a shared private pool access.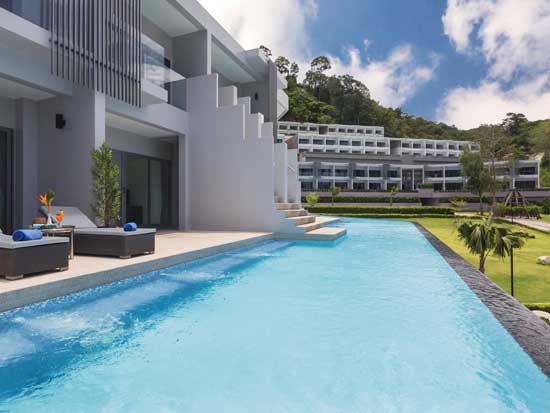 Patong Bay Hill Resort will provide a full range of splendid on-site amenities and, ONCE COMPLETE IN 2021, will include: 
 

Club house–Perfect for meeting up for drinks with friends.

Wedding facilities—An ideal setting for destination weddings.

Restaurant Dining—Including a buffet breakfast and both Thai and Western food.

Kids Club—For the kids to play and a moment's reprieve for you.

Wellness Spa—Relax and rejuvenate…it's what holidays are for.

Sports & Recreation Area—Enjoy a competitive game with friends and/or family.

Fitness Centre—No need to miss a workout while on holiday.
Shops—Perfect for picking up gifts for friends back home.

Stunning 'Island Oasis' Main Communal Swimming Pool—Perfect for dining and cooling off with family and friends.
Whether it is for romance, family fun, entertaining friends or as a base to enjoy Phuket's many historical and cultural landmarks, Patong Bay Hill Resort is set to have it all.
Stop in any time and say hello.
We'll be sure to have a smile waiting for you.
One-Bedroom Suite
Enjoy the contemporary interior design with all of the following amenities:
• Complimentary wireless high-speed internet access—Enjoy the ability to work from anywhere.
• Complimentary daily replenishment of bottled water—Stay hydrated easily.
• Bath amenities (bathrobes, bedroom slippers and toiletry sets)—In case you forget you're on holiday.
• Daily housekeeping—Let us tidy up for you.
• Kitchenette with full kitchen utensils—If the urge arises, easily cook for yourself.
• In-room safe—No need to worry about lost or stolen valuables.
• Microwave—Reheat leftovers with ease.
• Refrigerator—Keep drinks cold.
• Satellite / Cable TV—Keep up to date on all the news that matters.
• Seating area–Entertain guests in style and comfort.
• Sofa bed—Perfect for kids or unexpected guests.